Coltsfoot
Tussilago farfara
 From the link ☼
A decoction is made of 1 OZ. of leaves, in 1 quart of water boiled down to a pint, sweetened with honey or liquorice, and taken in teacupful doses frequently. This is good for both colds and asthma.

Coltsfoot tea is also made for the same purpose, and Coltsfoot Rock has long been a domestic remedy for coughs.
The botanical name, Tussilago, signifies 'cough dispeller,' and Coltsfoot has justly been termed 'nature's best herb for the lungs and her most eminent thoracic.'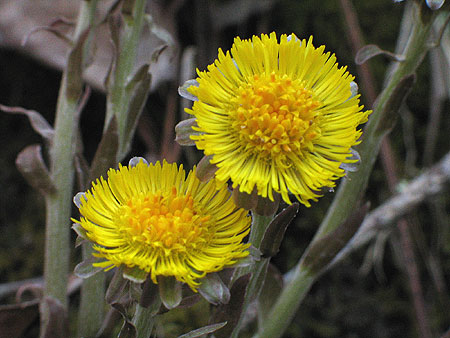 The smoking of the leaves for a cough has the recommendation of Dioscorides, Galen, Pliny, Boyle, and other great authorities, both ancient and modern, Linnaeus stating that the Swedes of his time smoked it for that purpose. Pliny recommended the use of both roots and leaves. The leaves are the basis of the British Herb Tobacco, in which Coltsfoot predominates, the other ingredients being Buckbean, Eyebright, Betony, Rosemary, Thyme, Lavender, and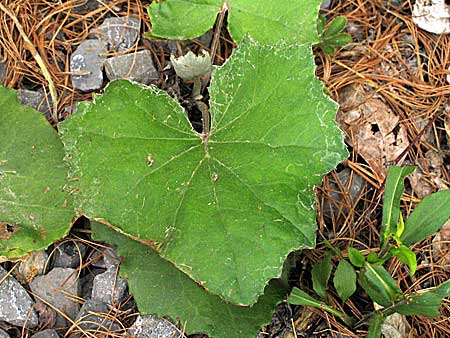 Chamomile flowers. This relieves asthma and also the difficult breathing of old bronchitis. Those suffering from asthma, catarrh and other lung troubles derive much benefit from smoking this Herbal Tobacco, the use of which does not entail any of the injurious effects of ordinary tobacco.