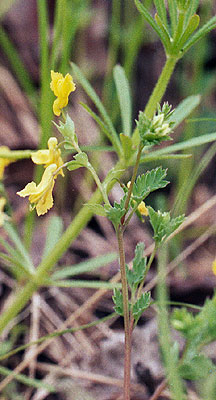 Flowers - Corolla yellow, irregular. Petals 4, unequal, slightly joined at base. Uppermost petal spurred, to 1cm long, glabrous. Apex of upper petal toothed, undulate, to 5mm broad. Spur to -3mm long, curved downward slightly.
Flowering - April - May.
Habitat - Moist slopes, low woods, ravines.
Origin - Native to U.S.