Clammy Ground Cherry
Physalis heterophylla
 From Nearctica
Identification: Flower yellow with a dark center, bell-shaped, and hanging. Flower relatively large (greater than 1 cm. in diameter). Fruit a yellow berry enclosed in a papery sack. Stem with sticky hairs. Leaves hairy, heart-shaped with a broad base. Outer margin with coarse, blunted teeth. Plant usually erect, 1 to 3 feet in height.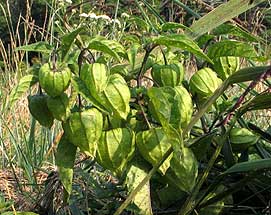 Distribution: Throughout most of North America except in the California region.
Habitat: Clammy Ground Cherry is found in dry woods and clearings.
Flowering period: June to September.