Collinsonia canadensis.
from the link ☼
 King's American Dispensatory
COMMON NAMES: Stone-root, Rich-weed, Rich-leaf, Knob-weed, Knob-root, Horsebalm, Horse-weed, and improperly as Hardhack and Heal-all.
One of the first uses of collinsonia by Eclectics was in the treatment of that form of laryngitis known as "minister's sore throat." For this condition it is the best agent we possess. It is equally valuable in other forms of chronic laryngitis, pharyngitis, and in some cases of chronic bronchitis, and tracheitis. It is an excellent remedy for aphonia, resulting from vascular hyperemia, or from congestion.
History.—Collinsonia is found in damp, shady situations, and in rich, moist woods, from Canada to Florida, and flowering from July to September. The whole plant has a peculiar, lemon-like, balsamic odor, rather disagreeable in the root, and a spicy, pungent taste. The fresh root, which is the part chiefly employed in Eclectic medicine, is exceedingly hard, requiring to be crushed in an iron mortar, in order to prepare it for pharmaceutical manipulation. It has a sharp, spicy taste. Water and alcohol extract its virtues, but boiling destroys its medicinal properties, as its active principle is evanescent. It is most familiar under the name Stone-root, because of the hardness of its root, and not, as stated by Johnson (Med. Bot.), on account of its having been formerly used in calculous affections. This plant was named in honor of Peter Collinson, an English merchant, botanist, and antiquarian, who introduced many American trees, shrubs, and plants into English gardens.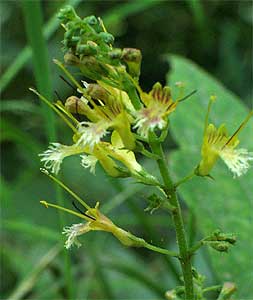 Action, Medical Uses, and Dosage.—Collinsonia is said to be alterative, tonic, stimulant, and diuretic. It acts principally on the venous system and mucous tissues, and undoubtedly has a marked action on the vagus, relieving irritation in parts to which that nerve is distributed. Minute doses of the green plant will promptly provoke emesis. The warm infusion will induce perspiration. It has long been a popular domestic remedy for various disorders. The bruised leaves were applied as a poultice in burns, bruises, wounds, ulcers, sores, sprains, contusions, and for internal abdominal ailments. The root was used in female complaints, piles, urinary diseases, and gastro-intestinal affections.