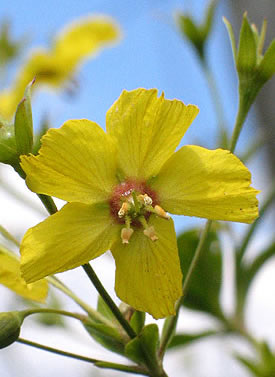 Inflorescence - Axillary pedunculate flowers, from upper leaf axils. Peduncles to +4cm long, glandular-puberulent. Flowers nodding.

Flowers - Corolla yellow, deeply 5-lobed, glandular externally, slightly orange to reddish at base. Corolla tube to +1mm long. Lobes to 1.3cm long, 1cm broad,
Flowering - May - July.

Habitat - Moist low woods, wet prairies, streambanks, pond margins.

Origin - Native to U.S.