Wood Spurge
or
Tinted Woodland Spurge
Euphorbia commutata
 Description taken from Missouri Plants
Stems - To +30cm tall, dichotomously branched, typically reddish at base, herbaceous, glabrous, erect, with milky sap.

Leaves - Lower leaves alternate, short-petiolate, spatulate to obcordate, falling near time of flower, smaller than upper leaves. Upper leaves (bracts) opposite, sessile, glabrous, reniform to broadly ovate, entire, to 1.5cm broad, 1cm long.
Flowers - Involucre 3mm long, glabrous. Glands 4, yellow, 2-horned, flattened, 2-3mm long. Stamens 6. Filaments flattened. Styles 3, bifurcate, .8mm long. Stigmas globose. Capsule 3-lobed, 1mm long in flower, expanding in fruit, one seed per locule.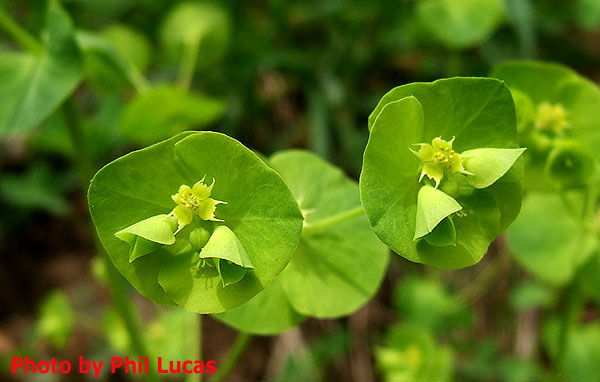 Flowering - April - June.

Habitat - Ravines, rocky woods, valleys, streambanks.

Origin - Native to U.S.