Small Wood Sunflower
Helianthus microcephalus
From New Moon
This is an upright rhizomatous perennial wildflower.  The attractive leaves are lance shaped and deep green with entire or serrated edges.  From mid-summer until autumn, golden 1" daisies grace the plant and entice bees, butterflies and other pollinators. This sunflower thrives in sunny sites with average well drained soil.
The small woodland sunflower has smooth green or burgundy tinged stems. Leaf arrangement varies with the lower leaves being opposite and upper leaves alternate. The blades are 3-6" long with short petioles around 1" or less.  They are lance shaped with smooth edges or with scattered teeth and a wedge or "v" shaped base.  The upper surface is scabrous and the lower surface has scattered patches of matted hairs. Stems terminate in numerous small daisy-like flowerheads.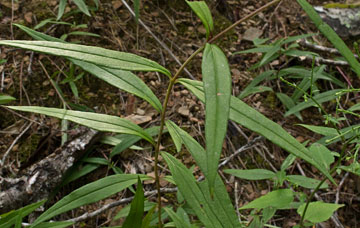 The heads consist of 5-8 bright yellow slightly ribbed rays surrounding a cluster of golden disc florets. Dark clusters of achenes form after flowering. Plants grow up to 4-6' tall with 2-3' spread.